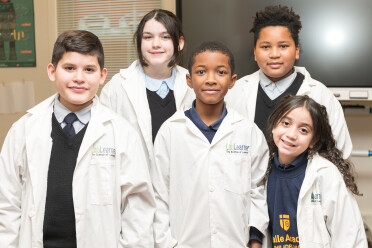 We are now accepting applications for the 2023-2024 school year!
ENROLLMENT INQUIRY FORM/FORMULARIO DE CONSULTA DE INSCRIPCIÓN
Parents and guardians: La Salle Academy is now accepting applications for the upcoming 2023-2024 School Year!
La Salle Academy is a San Miguel model independent Catholic grade school, educating children in Grades 3rd - 8th, dedicated to achieving success academically and spiritually in a supportive, faith-based learning environment.
What sets us apart? Small Classes, Big Impact: Our commitment to individualized attention means your child will thrive in our small classroom settings, with a 15:1 student-to-teacher ratio. An Extended School Day/School Year keeps our students academically engaged and invested throughout the normal school year, along with a summer session for four weeks in July. We also provide in-school wellness services, including a nurse practitioner, to address students' emotional, social, and physical needs. Financial assistance to Catholic High Schools is also available. Our annual tuition fee is $250. Families who qualify for the Federal Free or Reduced-Price Lunch program are eligible to apply. To learn more and see if you qualify, please click the link to complete the Enrollment Inquiry Form!
ENROLLMENT INQUIRY FORM/FORMULARIO DE CONSULTA DE INSCRIPCIÓN
Padres y estudiantes: La Salle Academy está aceptando solicitudes para el próximo año escolar 2023-2024.
La Salle Academy es una escuela primaria católica modelo de San Miguel, que educa a los niños en los grados tercero a octavo dedicados a lograr el éxito académico y espiritual en un entorno de aprendizaje basado en la fe y de apoyo.
¿Qué es lo que nos diferencia? Clases Pequeñas, Gran Impacto: Nuestro compromiso con la atención individualizada significa que su hijo prosperará en nuestras pequeñas aulas, con una proporción de 15:1 alumnos por maestro. Un Día Escolar Extendido/ El Año Escolar mantiene a nuestros estudiantes académicamente comprometidos y dedicados durante el normal año escolar, junto con una sesión de verano durante cuatro semanas en Julio. También ofrecemos servicios de bienestar en la escuela, incluyendo un enfermero practicante, para abordar las necesidades emocionales, sociales y físicas de los estudiantes. También se ofrece asistencia financiera a las escuelas secundarias católicas. Nuestra cuota anual de matrícula es de 250 dólares. Las familias que califican para el programa federal de almuerzo gratis o a precio reducido son elegibles para aplicar. Para obtener más información y ver si usted califica, por favor haga clic en el enlace para completar el Formulario de Solicitud de Inscripción.
For more info reach out to:
1434 N. 2nd St.
Philadelphia, PA 19122