Curriculum
The goal of La Salle Academy is to provide a strong academic program, assisted by financial, social, and emotional support so that our students can break free from the cycle of poverty. Specifically, our program targets steady improvement in their reading and math
skills.
Programs
Science Lab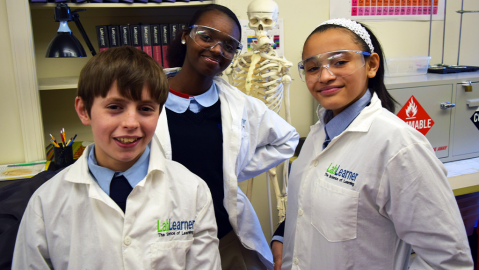 Students at La Salle Academy look, think, and act like scientists thanks to LabLearner. The LabLearner program is a hands-on method of teaching science. LabLearner includes a fully equipped science lab, complete curriculum, lesson plans, and assessments.
Over 60 CELLS (Core Experience Learning Labs) provide students with pre-lab information which sets the framework for hypothesizing, planning, implementing, and processing authentic laboratory experiments. LabLearner CELLS have been designed by scientists and teachers and are aligned with the current Science draft of Common Core State Standards. La Salle Academy students develop 21st Century skills that include critical thinking, problem-solving, communication, and collaboration skills while promoting student creativity and innovation. A parent newsletter includes the families in this exciting learning process.
Fine Arts
Believing that our students are all blessed with multiple intelligences, the Board and faculty of La Salle Academy value Art and Music as part of our curriculum. Often through the process of creating art and making music, students reach a level of self-understanding and self-expression. Self-esteem is built and fostered as the students express their inner thoughts through creativity. The Fine Arts Room located in the Enrichment Center is shared by both the Music and Art teachers. Students happily participate in Art and Music classes once a week. Classes are supplemented with weekly Art Enrichment Clubs, Choir rehearsals, and guitar and piano lessons. Students are encouraged to participate in various competitions to highlight their skills and abilities. A special treat for families and friends occurs twice a year at the finale of Ballroom Dancing lessons. After ten weeks of instruction in the Tango, Waltz, Merengue, Swing, fifth through eighth graders entertain the LSA community as they compete for the covenant trophies for Best Dancers. Our dancers will one day advance from Dancing with the Students to Dancing with the Stars.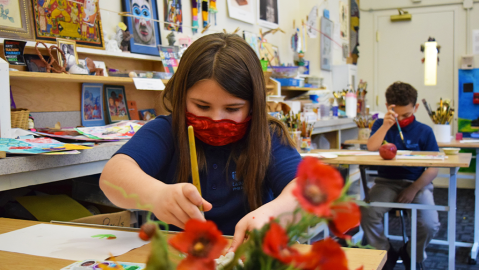 Technology
Working toward the Common Core State Standards that all students should be college or career-ready, La Salle Academy offers its students state-of-the-art technology. All classes including the Science LabLearner are equipped with smart boards. Computers in the Technology Lab have been updated in the spring of 2012 with brand new computers and flat-screen monitors. Students in grades 3,4,5 can work on several computers in their classrooms while 6th and 7th graders share one laptop between two students. Eighth graders, thanks to the generosity of a benefactor, are gifted with their laptop which they use all year before taking it home in June to be used in high school.
Teachers and students alike enjoy the many educational programs available online. Programs like Reading Street, Prentice-Hall Reading, Envision Math, First in Math, and Brain Pop enhance learning and understanding in challenging and fun ways.
Technology is used and taught across the curriculum. Students learn basic technology skills, such as keyboarding, and apply that knowledge while typing reports for all subject areas. Students' ELA lessons are enhanced when using technology to produce and publish original writings, as well as interact and collaborate with others through various formats such as blogs. Technology is used in Math and Science to help students learn the tools needed to solve programs and communicate data. All students enjoy making and learning from digital media presentations such as Prezi. Students also delight in creating art and musical pieces through technology.
If you would like to help fund our Technology Program, please contact Megan G. Thomson, Development Director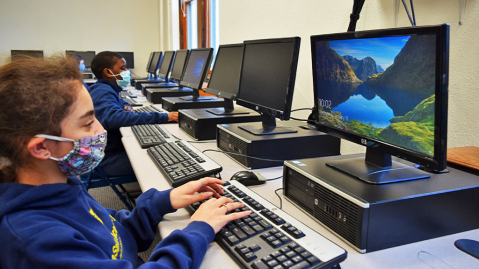 Enrichment Program
La Salle Academy believes in educating the whole child. Our extended day and extended year program enable our students, thanks to Board Members, benefactors, and teachers, to experience activities not usually associated with traditional school curriculums. These programs encourage our students to explore experiences that stretch their imaginations, uncover unknown talents and improve existing skills.
Students have benefitted through their participation in Enrichment Clubs such as
Dancing with the Students

Drama

Debate

Learning to speak German and French

Healthy Eating

Art Enrichment

Tennis, Soccer, Basketball, Softball

Newspaper

Trivia

International Affairs

Poetry
New additions to this year's enrichment clubs are Junior Achievement, Urban Blazers, Shalom, and Healthy Newspaper.
In addition to exposing our students to various Enrichment Clubs, the La Salle Academy Community expands Monday through Thursdays from 4:00-5:00 to welcome the many volunteers (high school, college, and retired) who tutor our students during Homework Club. These volunteers in addition to helping our students complete their homework serve as role models by being real-life examples of people who believe and value education and service.
Middle States Accreditation
Middle States Association of Colleges and Schools
Commissions on Elementary and Secondary Schools
May 1, 2019, to May 1, 2026
This is to affirm that
La Salle Academy Grades 3-8
La Salle Academy has been granted accreditation by the Middle States Association of Colleges and Schools by demonstrating that it is effectively advancing the quality of educational experiences it offers its students and meets its responsibilities to the public and the profession of education, and complies with standards for accreditation that are established by the organization.
Middle States accreditation standards are qualitative statements that reflect research-based best practices for schools. These standards complement content area standards, which designate what students are expected to learn in various curriculum areas.
Goals:
As part of the accreditation process, La Salle Academy established these specific goals against which to be measured:


La Salle Academy seeks to adopt a project-based learning model, with a focus on local
and global service, for its accreditation protocol. In making our decision to use the
service-learning model, we intend that the students will develop leadership and
communication skills that reflect Christian values and academic excellence.


We believe that our school community would benefit greatly from a service-learning
project in many ways. This project will generate energy and enthusiasm among all
involved. We will also increase our visibility within the community and potentially
develop new partnerships. The hope of implementing service-based learning at La Salle
Academy is to not only further the academic successes of students, but also to develop
citizenship skills, increase concern for others' welfare and extend their learning and
caring beyond the classroom. We want our students to become better problem solvers
by thinking "outside the box", to develop awareness and appreciation for the larger
society in which they belong, and to become more engaged in school. We desire
that our students become more empathetic, tolerant, accepting, sensitive, and inclusive
of those, we call "our dear neighbor" (Brill 1994).


A service-learning project embodies the principles and values of providing a human and
Christian education to the young, especially the poor, as well as working so that all are
one. These principles and values define our two charisms; that of the Christian Brothers
and the Sisters of St. Joseph. We believe service-based learning will enable La Salle
Academy students to realize the goals stated in the La Salle Academy mission
statement: "With a strong awareness of Christ in themselves and others, La Salle
Academy students and graduates are confident of their self worth and responsive
to the communities in which they live."